Old Family Photographs







Above is Capt John Adams DeWandelaer. Edward Percy DeWandelaer, his wife Ethel Link and two daughters, Dorothy and Ruth. Ruth DeWandelaer's graduation picture from Agnus Scott College. Marg Link, daughter of Frank and Helga Link, taken in 1939. Taking a stroll on the boardwalk of Atlantic City is Helga Link, Minnie Link Taylor and four year old Ann DeWandelaer Greene. Last is Dorothy DeWandelaer Walker taken in Florida about 1979.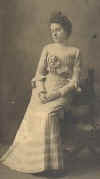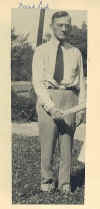 The beautiful blond above is Grace Stokes Link [1860-1910]; next to her is her husband, Addison Link [1854-1910]. Their three children are shown above: Ethel Link DeWandelaer [1879-1932], Minnie and Fank Link born in 1882. The blond at the far right is Minnie Link Taylor, taken about 1939; Wm Taylor was President of Philadelphia Electric Co.




At the left are pictures of Ann Greene taken in 1935. Center shown Ann and Nick Greene about 1939. The picture at the right are of Nick & Louise Greene and daughters.
Above are Nick Greene Jr. 1931, 1939 and 1949. Also Ann 1952 & 1956




The Greene Clan1965 and 1967. Mr & Mrs Bart Smullen Jr and III 1973
10/12/01 09:15 PM